I was lucky enough to attend the Dulux Colour of the Year 2024 launch event for architects, designers, and specifiers.
Read on to find out all about the annual trend forecast, the colour stories behind the colour of the year (COTY), and the accompanying palettes.
DULUX COLOUR OF THE YEAR 2024
I'll get to the good stuff first – to save you scrolling on down…
The Dulux Colour of the Year 2024 is Sweet Embrace. A gentle blossom pink.
Sweet Embrace is soft and versatile. It's a grown-up sophisticated pink. A friendly arm around your shoulder. A stand-alone colour but also a solid foundation for others.
So, now you know the colour, let's take a step back and explore the colour stories and palettes.
TREND FORECASTING for Dulux Colour of the Year 2024:
Each year Dulux invite global experts to share their insights as part of their trend forecasting.
Up to 2014 the focus was always on stuff – colours used in products and materials – but the emphasis has changed. Since 2014 the attention has been on people, and how we want to live in the built environment.
The global team identified three trends.
Trend #1: Quest for belonging. The knock-on impact of the pandemic and rapid technological change has left us in a state of flux. This trend recognises the need to use colour to create a space that tells our own story; somewhere we feel completely at home.
Trend #2: Quest for Calm. With information overload and multiple devices, we can succumb to sensory overload. This trend acknowledges the need for a space to clear our minds and decompress. Light, air, nature, love. It's about using colour to create a space to rediscover clarity and calm.
Trend #3: Quest for Joy. Moments of happiness are so important. Focusing on the everyday flashes of joy – microdoses of happiness. Flowering blossoms, a free coffee, a child's imagination. This trend encourages us to use colour to create uplifting, friendly spaces to fill with flowers, fantasy and fun.
These 3 trends come together to form a mood. A theme.
For 2024 the theme is "A place where you belong".
What a great sentiment. This is so aligned to what I see interior designers talking about – that your home should be a reflection of you and tell your story. A place where you feel good and belong.
Home is a haven. In a world where we often feel rudderless, home is a place that you can control.
Translated into palettes of colours – with the colour of the year in each – there are 3 colour stories.
The three palettes of 9 colours support and accompany the Dulux COTY Sweet Embrace.
At the Dulux Colour of the Year 2024 event, Dulux demonstrated how the 28 colours (across the 3 palettes) have been picked to include deep, mid, and pale tones. A little bit like on the Dulux Heritage cards.
There's plenty of variation – and you can mix all the colours up and work across the 3 palettes – giving you plenty of scope to create something special. This also works well if you are pulling together commercial schemes and want the Light Reflectance Value (LRV) to meet Disability Act guidelines.
In previous years there have always been four palettes.
Each palette ties to a commercial sector – and Dulux felt that two (offices and healthcare) had the same needs from colour – and so creating a fourth palette was unnecessary. Having just 3 is a move towards simplification.
THE COLOUR STORIES for Dulux Colour of the Year 2024
There's always a great back-story to the Dulux Colour of the Year 2024 and the accompanying palettes. The colour stories are an interpretation of the rends and themes that global experts are forecasting.
Quest for BELONGING
We're redefining our place in the world and searching for who we are.
This is the warm colour story. Warm, natural shades – a family of global earth tones. A palette that anchors us and helps us feel we belong and are connected. In this palette Sweet Embrace is a soft supporting colour.
Themes and trends that came up in creating this palette were:
Collecting things that define us (cluttercore).
Using colours and materials to tell a story.
People needing people.
Nature based solutions.
Generating common ground.
Designing for re-connection.
Layers of colour
Used in a RESIDENTIAL setting this palette creates a sense of belonging. A warm palette of sand, soil, and terracotta. It evokes comfort and warmth and is rich and organic.
Quest for CALM
We're experiencing information overload and seeking peace of mind.
This is the calm colour story. Soft, fluid greens and blues bringing clarity and peace of mind for a simplified space. A truly biophilic range that allows gentle enjoyment of nature.
At first glance Sweet Embrace seems an outlier – a warm colour in amongst the blues and greens – but it takes on a magical quality. It's also a great contrasting colour when paired with green.
Themes and trends that came up in creating this palette were:
We're bombarded with information and need quiet space to unravel.
Finding simplicity.
Light, air and quiet.
Treasures that cost nothing.
Disconnecting – digital detox and self-care.
Less is more.
Enjoying life to the full.
Two books were referenced at the launch event that tie to the themes:
'How to break up with your phone' by Catherine Price
'Four Thousand Weeks' by Oliver Burkeman
Used in OFFICES the calm palette brings the outside in. Nature inspired woodlands and seascapes to counteract the tech heavy environment of the office.
In HEALTHCARE the calm palette is soothing and restorative – aiding faster recovery. It creates fluid, nature inspired spaces tat make people feel better.
Quest for JOY
We're looking for light relief and celebrating moments of happiness.
This is the uplifting colour story. Dreamy lilacs ad modern yellows to bring fun and light-heartedness for a friendly space. Sweet Embrace looks greyer in this palette. It is a gentle giggle of joy (not a belly laugh).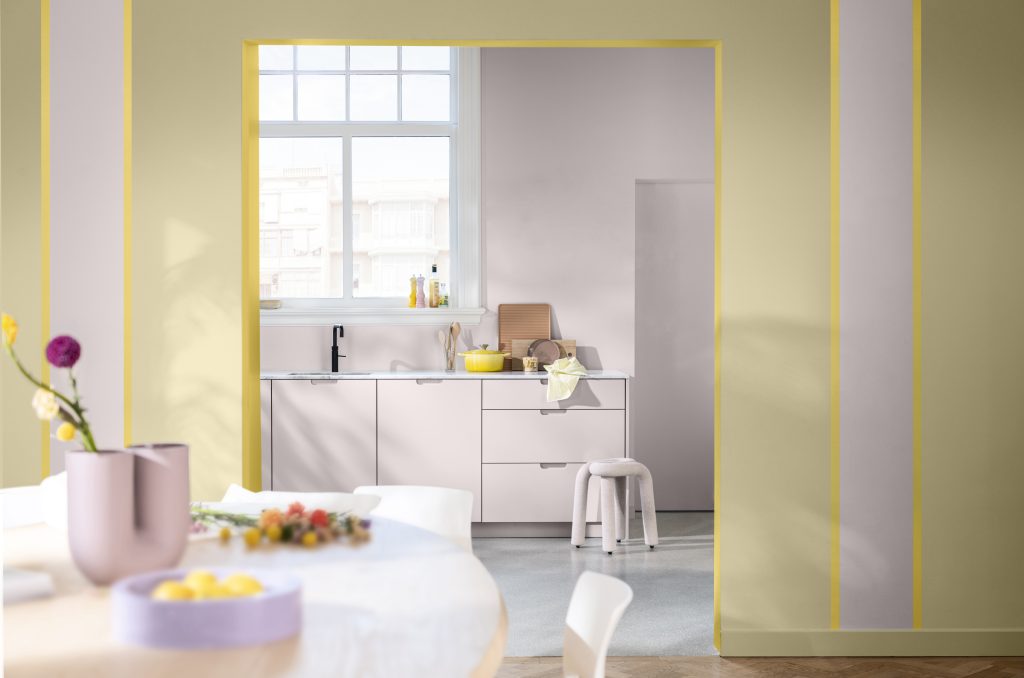 Themes and trends that came up in creating this palette were:
Micro-dosing happiness
Art of healing and delightful escape.
Embracing the fragile.
Dreaming and light-hearted joy.
Through the portal – metaverse, multiverse and AI
Mystical experiences.
Flowers everywhere.
Fantasy in gaming and storytelling.
This palette speaks to the immersive experience at exhibitions – such as Van Gogh – being inside a picture and to reconnecting with the experience of being a child. Play.
Used in EDUCATION setting this uplifting palette allows more mix and contrast without being overbearing.
If you enjoyed reading about Dulux Colour of the Year 2024, love colour and want to learn more, I have a series of Colour Workshops coming up (including an on-line version). Read more about upcoming events here.
Click this link to add yourself to the waitlist for my COLOUR WORKSHOP event – and select your favoured location – Manchester, Canterbury, London or On-line.